1 of 1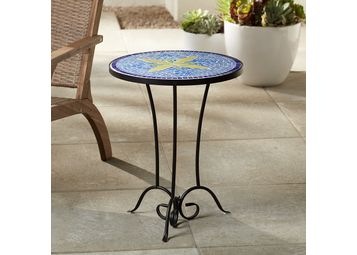 New
Lamps Plus
Blue Flower Mosaic Outdoor Accent Table
Enter location for stock & shipping information
Description
A beautiful blue mosaic top with a yellow flower design adds style and intrigue to this round accent table from Teal Island Designs. The accent table features a black iron frame to nicely contrast the bright and colorful top. This design is easy to incorporate and can be used indoors or outdoors.
SKU79C20
---
Dust regularly with a paper towel or a lint-free towel. Remove any dirt with a glass cleaner.
---
---
Lamps Plus is on a mission to help people create the home of their dreams. The Lamps Plus team has a passion for creativity and innovation. They continuously release new styles and push the boundaries of design. Its lighting, furniture, and decor collection is curated for every style. Everyone from people looking for traditional pieces to those searching to expand their horizons will find a product for them at Lamps Plus.
---