1 of 1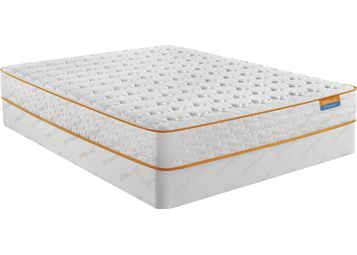 New
Kittle's Furniture
Simmons Goalzzz Queen Medium Mattress Only
Enter location for stock & shipping information
Description
Medium doesn't mean mediocre, at least when it comes to the Sleep Goalzzz 9.5" Medium Firm Mattress by Simmons. Get a little too comfy on both firm and soft comfort foam, and cancel 3am wake-ups with a thick motion separation layer. It's all sitting on top of a base layer for the kind of support that you won't need until your next big breakup.
Collection Features: Comfort layers: 1" Soft Comfort Foam; 3.5" Motion Separation Layer; 4.5" Supportive Base Layer Soft Comfy Quilt - You deserve the best, in our honest opinion. Try this quilted soft cover for all your comfort goals Motion Isolation Layer - Surfing in bed? Who isn't? So we put in a supportive base layer of foam that relieves tension and stress, while providing lasting support for your back Compatible with an adjustable bed
Additional Information: Pair with a standard 9" foundation, low profile 5" foundation or an adjustable foundation.
Warranty Information: 1 Year Limited Warranty.
SKU10172
---
Kittle's Furniture is on a mission to provide top-tier products and stellar customer service, making it one of Indiana's favorite furniture retailers since 1932. A constantly evolving inventory and commitment to quality ensures Kittle's customers are met with a positive shopping experience, from purchase to delivery. Browse Kittle's premium selection or head to one of their modern showrooms to check out your piece before you buy.
---