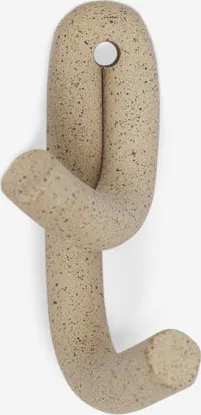 Leggy Crossed Wall Hook by SIN Ceramics
Lulu and Georgia
Leggy Crossed Wall Hook by SIN Ceramics
Enter location for stock & shipping information
Description
SIN is a Brooklyn-based brand that offers beautiful handmade pieces designed with intention. Artisan textures blend with modern design notes to bring an effortless poise to this ceramic wall hook. With its playful crisscross shape Leggy stikes a sculptural poise with added functionality creating the perfect spot for anything from purses and coats to towels and aprons.
SKUA0654115
---
Hand wash with soapy warm water and air dryDue to the delicate material of this item please follow the following instructions. After installing anchors onto the wall please drive in provided screws into the anchors carefully. If the item has multiple holes please alternate between screws until each screw is fully tightened to the anchor and the rack is securely fastened to the wall. Do not screw one screw in fully and then the other as the tension may result in cracking.
---
---
Shop Lulu and Georgia for exclusive designer collaborations, uniquely curated collections, one-of-a-kind vintage pieces, and gorgeous rugs. Lulu and Georgia's vast selection of furniture and decor features quality-crafted, trend-forward pieces perfect for every interior design enthusiast. Browse Lulu and Georgia's selection to update your home with an elevated, contemporary look.
---
Material
Ceramic Stoneware