1 of 1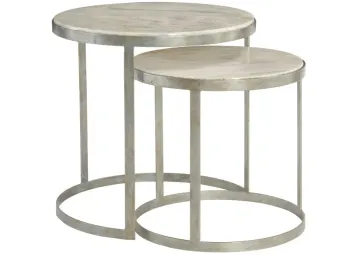 Kittle's Furniture
Bernhardt Interiors Tiffin Nesting Tables
Enter location for stock & shipping information
Description
Century marble top Solid steel base in Caribbean Gold finish
Warranty Information: Casegoods Limited Warranty Bernhardt Furniture Company warrants its wood products to be free from defects in material and workmanship under normal use and service for a period of five (5) years from the date of initial shipment to the dealer; however, certain components of the wood products are subject to shorter warranty periods which are described below. Furniture in which such defects occur will be repaired or replaced at Bernhardt's option or, if replacement or repairs are not possible, alternate financial remuneration may be paid at Bernhardt's option. This remedy is exclusive and Bernhardt does not authorize any person to create for it any other obligation or liability in connection with this furniture. For clarification purposes only, the term "wood products" refers specifically to Bernhardt Case Goods products (including, without limitation, upholstered beds and dining room chairs) and has no implication, directly or indirectly, to any Bernhardt Upholstery products. Bernhardt Case Goods products are those products listed and displayed exclusively in the Bernhardt Case Goods products catalog, in printed form or as displayed on the Bernhardt internet web page. This warranty applies under conditions of normal residential usage only and does not apply to defects or damage resulting from (a) negligence, abuse or misuse; (b) inadequate or improper maintenance, cleaning or care; (c) exposure to chemicals and/or liquids; (d) accidents; (e) any use for which the product was not designed; or (f) commercial usage, which includes rental, business, commercial, institutional or other non-residential use. Transportation or delivery damage is excluded. Bernhardt furniture is made of naturally variable raw materials. Differences in grain character and color among wood and plant species and stones and minerals are naturally occurring variations and are not within the control of the manufacturer nor considered defects under this warranty. Natural color changes, variations, or movements in lumber or veneer products, and exposure to extreme temperature changes and direct sunlight, may cause color changes and/or surface damage and are not covered by this warranty. Bernhardt Furniture Company warrants the stone and mineral components of its wood products to be free from defects in material and workmanship for a period of one (1) year from the date of initial shipment to the dealer. Bernhardt sometimes uses crotch mahogany and other highly figured veneers which are taken from areas of the tree that grow in different directions. This natural characteristic of the veneer causes tension and pulls the fibers of the wood, which can result in hairline cracks over time. This condition is considered an enhancement to the product and is excluded from this warranty. Fabrics/Leathers: Bernhardt Furniture Company warrants the fabrics, leathers, cushions and filling materials applied to its wood products to be free from defects in material and workmanship for a period of one (1) year from the date of initial shipment to the dealer. Any type of fabric/leather protectant or treatment not applied by the fabric/leather manufacturer voids the warranty. Pilling is a characteristic of fabrics resulting from normal use and wear and is not covered under any warranty. Improper cleaning voids any warranty. Leather is a natural material, every hide uniquely enhanced by natural features. Wrinkles, scratches, insect bites, healed scars and other natural markings should not be considered flaws. Color variations occur normally within a hide and from hide to hide as no two hides are alike. Washed Fabrics: Some fabrics are washed to achieve a more relaxed appearance and softer feel. Wrinkling, puckering and shade variations are a natural result of washing and should not be considered defects. Television lift mechanisms, power supplies and other electronically related components are warranted by each respective manufacturer and are excluded from this warranty. This warranty protects you only when you purchase Bernhardt furniture from a Bernhardt Authorized Dealer. Bernhardt's customer is the dealer. All complaints or requests for warranty service must be accompanied by your original dated proof of purchase, contain a brief written description of the defect and must be resolved through the dealer from which the furniture was purchased. This warranty gives you specific legal rights and you may also have other rights which vary from state to state. This warranty applies only when you purchase the Bernhardt furniture for your own normal household use and terminates in the event of resale or commercial use. This warranty does not cover (a) floor samples or products designated "AS IS" at the time of purchase; (b) differences between floor samples and your furniture, (c) differences between printed illustrations, video or internet displays and your furniture; and (d) differences between marble items, since marble is a non-manufactured natural substance and no two pieces can be expected to match perfectly either in color or pattern.
SKU527139
---
Kittle's Furniture is on a mission to provide top-tier products and stellar customer service, making it one of Indiana's favorite furniture retailers since 1932. A constantly evolving inventory and commitment to quality ensures Kittle's customers are met with a positive shopping experience, from purchase to delivery. Browse Kittle's premium selection or head to one of their modern showrooms to check out your piece before you buy.
---