1 of 1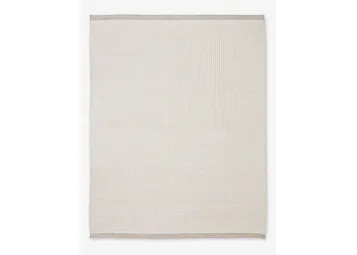 Lulu and Georgia
Astrid Indoor / Outdoor Rug
Enter location for stock & shipping information
Description
The chunky woven look and neutral hue on the Astrid Rug lends well to a cozy and casual space perfect for an outdoor lounge or dining area because of its resistence to water.
SKUA01501620
---
Can be used indoors or outdoors; Blot spills with a clean sponge or cloth; A mild cleanser can be used but avoid the use of strong solvents or soaps; Harsh chemicals may damage or fade rug; For vacuuming use a vacuum cleaner without a beater bar or one where you can set the bar to the highest pile setting; If your vacuum has variable power settings set on low; Loose fibers are common clip with scissors; In some cases your rug might have a distinct smell - this smell is non-toxic and will subside after you keep the rug out in the air for a period of time; Do not open your packaged rugs using scissors as you risk damage; Any creases after unrolling should disappear in a week or two; Use rug protectors under heavy furniture; For more information check out our RugGuide
---
---
Shop Lulu and Georgia for exclusive designer collaborations, uniquely curated collections, one-of-a-kind vintage pieces, and gorgeous rugs. Lulu and Georgia's vast selection of furniture and decor features quality-crafted, trend-forward pieces perfect for every interior design enthusiast. Browse Lulu and Georgia's selection to update your home with an elevated, contemporary look.
---
Material
Polypropylene And PET Are A Robust Option As These Synthetic Fibers Are Easy To Care For Easy To Clean And Do Not Shed Or Have A Breaking In Period These Rugs Hold Up Well In High Traffic Areas And Everyday Living Spaces