Blue, Slate & White Furniture Color Schemes & Decorating Ideas
To create the right mood in your space, proper color balance is essential. Pairing neutral tones with pops of primary colors makes a home feel chic and inviting. Decorating a living room with blue, slate and white does just that, giving you the perfect combination of style and charm.
Chatham Place Living Room Set

Slate gray sofa set with silver nailhead details, blue and white accent pillows combined with a white rug and dark blue curatins.
A slate couch, like the one above, is a versatile starting point. The white rug reflects natural light from the windows to make the space feel larger. Navy and white accents in the pillows, decor and curtains, add a pop of color amid these neutral tones.
Sunset Boulevard Living Room Set

Contemporary gray sofa set combined with modern style tables, a white rug highlighted by the blue sky in the background.
Due to its use of large spaces and utilitarian materials, industrial design comes with a variety of special challenges. A great way to take advantage of large windows and pull the outdoors inside is by using natural tones of blue, slate and white in your decor.
For example, the soft gray sofa and ivory rug seen in the room above keep the atmosphere bright, soft and airy while minimizing glare from the polished blue-gray floor while the geometric upholstery pattern in slate and white echoes the architectural feel of the space and the skyline.
Piedmont Living Room Set

Transitional gray sectional with a nailhead trim along the back accented with blue and white pillows, a dark gray ottoman, and a white rug.
If you are going for a country cottage feel, decorating with slate heightens rustic appeal. This stone gray sectional has a warm, natural look. The ash-gray ottoman, white rug and patterned indigo and white pillows, like those in the living room above, add depth and dimension .
Park Boulevard Living Room Set

Contemporary blue sofa set with tufted cushions, blue, slate and white accent pillows and a white rug.
Patterns add life and style to any room, and the chevron wallpaper and pillows above infuse character into this modern space. Because gray is the room's main color, a bold blue couch doesn't feel imposing. Blue and white decor accents put the finishing touches on this cool-hued room.
Trevino Living Room Set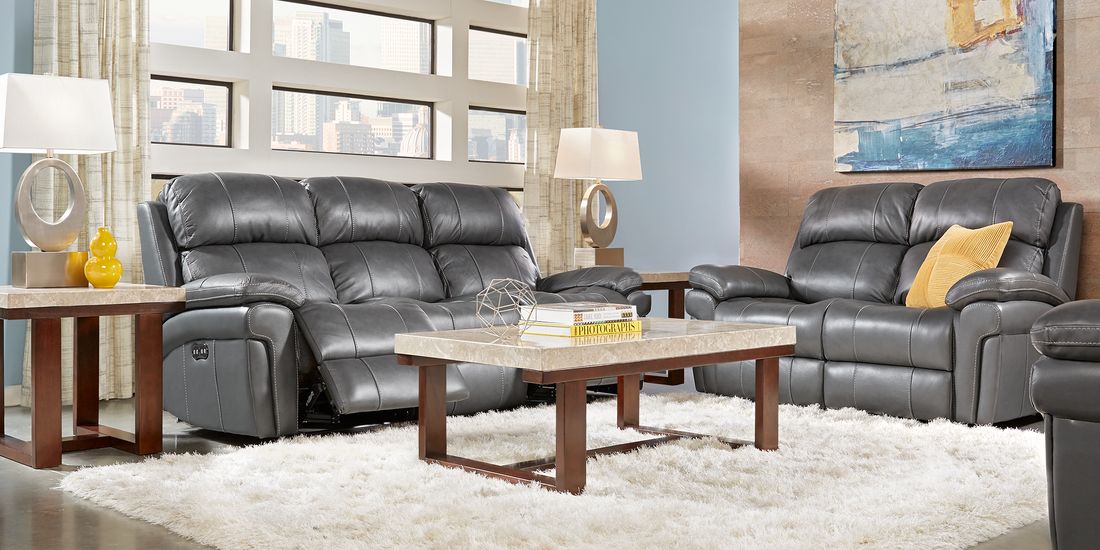 Slate gray reclining leather sofa set combined with blue and white wall art and a white shag rug.
When styling a room, it is smart to begin with wall color and go from there. In the space above, blue and travertine walls set the stage for the rest of the decor. Thanks to its deep neutral hue, a slate reclining sectional stands out against the walls and the white rug without feeling out of place. Artwork that incorporates all three colors brings this interior design together.
Cindy Crawford Living Room Set

Blue leather sofa set with tufted design paired with blue and white accent pillows, white lamps and a gray and blue rug.
Monochromatic color schemes make a small room seem larger. In this inspiration photo, the layering of various shades, tints and tones of blue and gray open the space. Decorating with slate accent pillows and wall decor creates variety and visual interest. A teal couch provides the room's focal point, while a silver rug pairs the seating with the chrome tables.
Cindy Crawford Living Room Set

Slate gray sofa set accented with gray and white pillows, glass-top oval tables, white lamps and a bright blue shag rug.
White walls and gray floors give you the perfect blank canvas to furnish your living room however you like. In this inspiration room, decorating with slate couches atop a shag teal rug gives the perfect balance of neutral and bright hues. Blue and white decor on the walls and chartreuse accents add playful touches of color.
Cool Blue, Slate, and White
Blue decor evokes serenity and is perfect in a living room decorated for relaxation. When paired with slate and white, two neutral colors, it appears to pop. The combination of the three hues gives you a calming space with a chic look.