We are always adding new and exciting collections to our existing inventory of living room, bedroom and dining room furniture, accent pieces, and more. Check out our top 3 picks of this week's newest arrivals, and let us know if you get inspired -- we sure did!
If you are looking to add a little romance to your bedroom, we suggest you take a peek at the Santa Cruz bedroom furniture collection. We love the way the different materials in this bedroom add the feeling of femininity and grace. A flattering mixture of wood, metal and faux granite compliments the room design, creating an inviting feeling. The regal bed is eye-catching with its antiqued bronze metal finish, and the rustic cherry veneers are a stunning addition to the dresser and nightstand. You can easily mix and match accessories and bedding to create the perfect atmosphere and fashion an entire new look!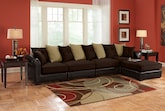 The Amelia Area Rug
Picking out the right furniture is key to creating the perfect room design, but you must also remember accent pieces help give a room its finished look. Area rugs come in many different colors and patterns and can set the entire tone for the decor. Our Amelia area rug is sure to be a favorite with its earthy color palette. A blend of woodland browns, rustic reds, mossy greens and warm cinnamon reflect today's popular decorating trends. The wide-scale overlapping shapes offer modern eye appeal. The Amelia looks great in this room design because it pulls out the deep brown color of the Bayfront sectional and flatters the richly colored walls. The rug balances out the room while giving you a cahnce to express your own personal style!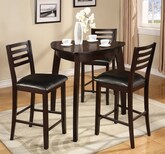 The Kyle Collection
Are you trying to decorate a small apartment or condo? Keep in mind dinettes are a great option to add style to your home while saving on space! Our Kyle collection may be small, but it is big on design! This three-piece dinette has angular curves that are unique and not often seen in dining room furniture. The high-back leather-like chairs are easy to care for, and the counter-height size is ideal for casual meals and get-togethers.
Browse all the newest furniture arrivals at Furniture.com.
Categories: Design Tips, Bedroom Furniture, Accent Furniture, Living Room Furniture, Dining Room Furniture