We are always adding new and exciting collections to our existing inventory of living room, bedroom, mattresses, dining room furniture and more. Check out our top 3 picks of this week's newest arrivals, and let us know if you get inspired -- we sure did!
T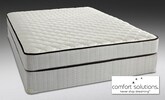 he Mystic Mattress Collection
You need a good quality mattress in order to get a great night's sleep! So if you wake up stiff and achy, then its time to check out our new Mystic collection. This mattress provides the support and comfort you need at a value you'll love! Lumbar support, Gel-Visco foam and an insulator pad combine to give you sweet dreams night after night. Plus, you'll rest easy knowing the Safeguard quilting is fire retardant. You spend a third of your time in your bed, make sure you have a mattress that will help you get the best rest possible!
The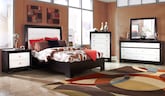 Broadway Bedroom Collection
Do you dream of a bedroom chic enough for a design magazine? Look no further than our new Broadway bedroom furniture collection. This set takes center stage when it comes to style. The combination of dark espresso and oyster finishes is stunning, and it's all complimented perfectly by hammered silver hardware. This is a great option for making your bedroom the star of your home.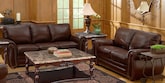 The Bordeaux II Leather Living Room Collection
You don't have to spend a fortune to have a living room that looks like you did! The classic and luxurious design of our new leather Bordeaux II collection adds amazing elegance to any room. Stunning in a rich burgundy finish, the top stitching on seats and back adds a distinctive design element. The deep seating and overstuffed cushions offer grand comfort. It's not difficult to picture yourself entertaining friends with this amazing sofa, loveseat and chair. Start indulging now
Browse all the newest furniture arrivals at Furniture.com.
Categories: Design Tips, Mattresses, Bedroom Furniture, Living Room Furniture