We are always adding new and exciting collections to our existing inventory of living room, bedroom, dining room furniture and more. Check out our top 3 picks of this week's newest arrivals, and let us know if you get inspired -- we sure did!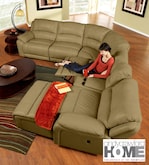 The San Marco Collection
Sectionals are an excellent way to maximize seating and a perfect place for friends and family to gather -- and the San Marco collection invites you to do just that! It consists of 100% leather wherever the body touches and is versatile in its stunning toffee color. Chaise pad recliners make for added comfort, as there are no gaps between seat and footrest. Plus the built-in cupholders and storage consoles enhance the party-friendly design.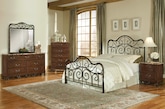 The Sanra Cruz Collection
Our Santa Cruz bedroom collection is inspired by romance and femininity. The metal scrollwork creates an inviting feeling, and the faux granite top and case metal hardware are regal and elegant. Regardless of your bedroom's shape or size, the Santa Cruz bedroom will blend nicely into any design. This bedroom collection is perfect for a room designed around grace and beauty!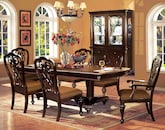 The Bradbury Collection
If you want to impress friends and family with elegant dinners, than the Bradbury dining collection is the one for you! This dining room set makes a classic statement with its metallic accents and carved details. Stunning in warm oak, this dining set will quickly become the hub of your home!
Browse all the newest furniture arrivals at Furniture.com.
Categories: Design Tips, Bedroom Furniture, Dining Room Furniture, Living Room Furniture