We are always adding new and exciting collections to our existing inventory of living room, bedroom and dining room furniture, mattresses and more. Check out our top 3 picks from this week's newest arrivals, and let us know if you get inspired -- we sure did!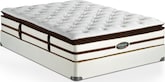 The Tillman Mattress Collection
People often forget about the importance of a good mattress. Since this bedroom item is not usually visible to guests, we tend to think of it last when updating and redecorating our home. But we spend a large percentage of our time sleeping and a good night's sleep effects every aspect of our waking day. Check out the superior softness of our Tillman Pillowtop Plush mattress collection. This mattress has Powerbeam bracing, which offers a durable, supported mattress base ideal for soothing away pressure, lumbar support and added conformability. Get rid of that old, worn mattress and start getting your dream sleep back!
Want to bring the relaxing, calm feeling of a spa to your living room? Our incredible Solace Spa II sectional is amazingly comfortable and eye-pleasing with its contemporary design. Creating a warm atmosphere, the velvety soft microfiber and tufted seat cushions ensure you have a cozy respite from daily cares. The exposed wood base adds a distinctive touch to the contemporary style. And let's not forget the soothing and peaceful spa hue that gives your living room a perfect hint of color. Indulge with this new living room furniture and turn your home into your personal retreat!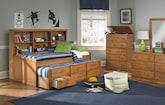 The Varsity Pine II Kids' Bedroom Collection
Is it bedtime yet? Your kids will be begging to go to sleep because of the sporty and spiffy look of our Varsity Pine II collection! This kids' bedroom is constructed with hardwood solids that can withstand the wear-and-tear of children and look great at the same time. The sturdy daybed features a trundle bed with three storage drawers to accommodate overnight guests and store clothes, linens or personal items. The brushed nickel hardware on the dresser and chest, along with the prominent wood grains, combine to create rustic charm.The classic pine finish complements the simple, clean lines. Get the bedroom your kids want at a price you love. Bedtime will never be the same!
Browse all the newest furniture arrivals at Furniture.com.
Categories: Dining Room Furniture, Living Room Furniture, Bedroom Furniture