We are always adding new and exciting collections to our existing inventory of living room, bedroom, kids room, dining room furniture and more. Check out our top 3 picks of this week's newest arrivals, and let us know if you get inspired -- we sure did!
T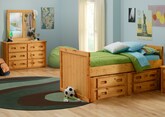 he Sundance Kids Bedroom Collection
When redecorating our homes, we often forget the importance of kids bedroom furniture. The look and feel of your child's bedroom will be a foundation of their early memories. Make sure you pick durable furniture that will be with them throughout their adolescent years, like the Sundance kids bedroom collection. Its carefree and casual look can work equally well in a a girl or boy's bedroom. The hand-applied cinnamon finish enhances the laid-back style. The bed is sturdy in its construction and has plenty of built-in drawers for storage space. Your child will love the mirror's built-in corkboard, perfect for posting reminders and pictures of friends. Make your child's room a priority and start creating memories that will last a lifetime!
The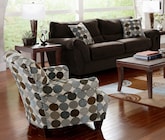 Demi Living Room Collection
Looking for something neutral enough to blend in any living room design, but funky enough to add some panache? Our new Demi collection is one of a kind with its stylish and comfortable, thick microfiber fabric that gives the appearance of suede and the feel of velvet. The charcoal grey color effortlessly blends with any room's decor. The fun circle pattern on the accent chair and toss pillows give your room unique style with an edge! Think of all the compliments you'll receive when your friends see your living room was plucked from the pages of a design magazine!
These days, people are working from home more than ever before, so it is essential to have a space to concentrate on work. Whether you have an extra room for an office or have allotted a corner in the kitchen or family room, a desk is as essential as a living room sofa. The Spirit desk is small in size, but big in style. While it can easily be tucked out of the way, its elegant design demans attention. The three framed re is plenty of storage in its three framed draws with antique hardware. Plus the handy pull-out keyboard tray completes its functional design. Whether you use it for work, bills or your schoolwork, the Spirit desk will stand out with its deep cherry finish and timeless design.

Browse all the newest furniture arrivals at Furniture.com.
Categories: Design Tips, Bedroom Furniture, Kids Rooms, Living Room Furniture