We are always adding new and exciting collections to our existing inventory of living room, bedroom and dining room furniture, mattresses and more. Check out our top 3 picks from this week's newest arrivals, and let us know if you get inspired -- we sure did!
For some reason, people often have mixed feelings when it comes to sectionals. But sectionals are an excellent way to maximize seating, plus they are great for cuddling up and hanging out! If you are seeking a comfortable and versatile option for your living room, look no further than our Adrian Red II collection! The semi-attached cushions will contour to your body while retaining their shape. The modern design and vibrant red color will quickly make this sectional the centerpiece of the room. Unbelievably soft microfiber is perfect for day-to-day durability. Remember, a sectional does not have to be big and clunky - this contemporary design will add style and function to any room!
The Urban Living Bedroom Collection
Are you ready to transform your bedroom into the haven you've always wanted? Our Urban Living collection will add modern sophistication to any bedroom. A unique, blended cherry finish creates subtle depth and rich tones. The panel bed features eye-catching veneers, and the dresser and nightstand are accented with button pulls in a contemporary metal finish. Escape the hustle and bustle of everyday life with a bedroom you love!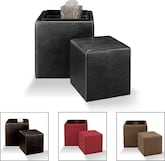 Tan, red, or brown? Whichever one you choose, our Tania nesting ottomans are both fun and functional. The larger ottoman triples as extra seating, storage and an ideal snacking space thanks to its reversible lid. The smaller ottoman can be used for kicking up your feet, and can easily be hidden within the larger ottoman. Plus, the sleek design makes these ottomans great accent pieces for your decor. Once you have these in your home, you will wonder how you ever lived without them!
Browse all the newest furniture arrivals at Furniture.com.
Categories: Accent Furniture, Living Room Furniture, Bedroom Furniture